About Us & Hearing Services
About Kaiser Permanente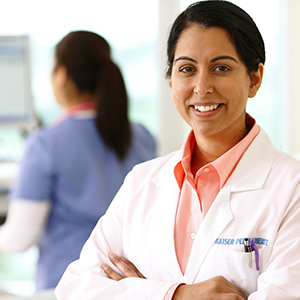 Kaiser Permanente is a trusted and valued health care source for more than 500,000 people in the Colorado region. Practitioners are credentialed by Kaiser Permanente to ensure proper licensing and certification in their respective fields. Additionally practitioners participate in a Kaiser Permanente-directed quality assurance program, ensuring that high-quality care is delivered to our patients.
As a Kaiser Permanente member, you will receive coordinated care from your entire Kaiser Permanente team, including your audiologist in Hearing Services. Your doctor of audiology will be able to access your electronic medical record to learn your health history and communicate with your primary care physician and any specialists you may be working with.
About Hearing Services of Colorado
Our clinics strive to provide you with the best hearing aid technology available on the market, at a competitive price, expertly fit for you by our doctors of audiology. Our approach focuses on the communication challenges particular to your lifestyle and looks for a combination of technology and other solutions to help ensure you are hearing your best.

Our Hearing Services team is highly trained to assess and manage all types and degrees of hearing loss in close partnership with the Head and Neck Surgery Department. Our audiologists are employees of Kaiser Permanente who do not work for commission, as is common in many hearing aid settings. The interest of our audiologists is providing the most appropriate amplification to your particular hearing loss while keeping your budget and lifestyle in mind. We choose from four major manufacturers of hearing aids: Starkey,
Signia (formerly Siemens), Oticon and Phonak, which allows us to get the device we think will help you succeed with hearing aids.

I l We like to include your family and loved ones in the hearing aid process along the way, as we understand how precious communication is and how challenging life becomes when it is a struggle to hear and understand the world around you. Your team of audiologists and business office assistants (BOAs) work to provide excellent audiologic services with customer service at the center of all we do.

What You Can Expect From Us
You can expect Doctors of Audiology who are experts in all issues related to hearing

You can expect an emphasis on improving how you hear and not on selling you a product

You can expect no commissions or pressure to buy

You can expect honesty and transparency

You can expect a medical model of hearing healthcare focusing on prevention and rehabilitation

You can expect us to focus on your communication as a whole – not just on hearing aids

You can expect peace of mind with exceptional device warranties

You can expect eight Hearing Aid Center locations to serve you

You can expect us to be reliable and trustworthy

You can expect us to fit you with the best brands in the hearing aid industry

You can expect lower prices passed on to you – saving you hundreds to thousands of dollars

You can expect easy access to support with your hearing aids